God's Secret Weapon by Merlin Carothers
---
Secret ? The very word stirs our curiousity. We all want to be in on the secret, especially if it relates to the questions that trouble us most:
How do we find true, lasting happiness?
How can we endure suffering and tragedy?
What defense do we have against Satan's attacks?
When everything else fails, what will help us to stand?
The answer? God's secret weapon. It is a powerful weapon, and it is available to you today. This book explores how God's secret weapon can change your life, and how you can lay hold of it.
---
---
---
Chapter One: Increasing Every Day
---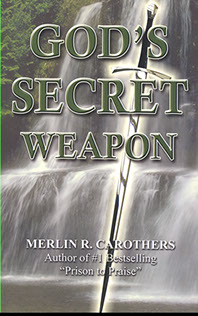 Jesus taught His disciples how to walk on water, heal all manner of diseases, and find money when they needed it. What a way to live! As marvelous as those capabilities would be, you and I may never achieve them. But we can learn how to be filled with the joy Jesus came to give us. It is possible! But how? This book contains simple answers for anyone who longs for a happier life. We all want experiences that overwhelm us with joy. However, another experience is far more desirable. It is learning how to have increasing joy.
God occasionally gives us experiences that suddenly overwhelm us with happiness. But He wants our lives to follow the "always increasing" pattern of Jesus' life (see Luke 2:52). We cannot experience joy without peace. God wants to give us His peace, although it may seem confusing at first. After all, it's described as: The peace of God, which transcends all understanding . . . . (Phil. 4:7 NIV) We can only begin to understand this peace as it takes root and grows in us. The more it grows, the more we want it to grow. In fact, Paul writes: Let the peace of Christ rule in your hearts . . . . (Col. 3:15 NIV)
Without God's peace we are unable to feel confident that He is in charge of the earth and everything on it. Ah, peace of heart and mind! Without it, nothing else is valuable. Peace brings joy. Men and women can be at the very top of successful careers with huge financial resources, good health and great looks, yet be absolutely miserable. Or, they may have moderate success, fair health, average appearance, and still be miserable. Either way, they lack the one ingredient that humans need: peace of heart and mind. This treasure of peace is for all Christians.
When we believe in and trust Jesus as our Savior, we become God's children. God's children! What an event to celebrate! Talk about having a reason to rejoice! At that moment, we might want to leave this earth with all its problems. However, God's plan calls for us to remain here while we learn how to grow in favor with Him like Jesus did. Jesus taught His disciples how they could have a joy that God designed to fit every person on earth: Peace I leave with you; my peace I give you . . . . Do not let your hearts be troubled and do not be afraid. (John 14:27 NIV) Think of it:  He wants us to learn how to never be troubled or afraid. This is Good News! He gave us such clear instructions: Do not. One with authority spoke these words. We may ignore His authority, but we cannot escape the results of doing so. Do not let. This means we have the power to not do something. However, God does not take from us the consequence of being troubled if that is what we choose. Do not be troubled. Jesus knows all about our problems and how they affect us. He explains God's will for us in every situation: do not be troubled. As we practice obeying, we are changed – just as Jesus knew we would be. We learn the joy of having the peace He had, and why He told us not to be troubled.
In John's gospel, chapter ten, Jesus compares Himself to a shepherd who loves his sheep; He wants us to believe that He will use all His authority and power to care for us. But, like sheep, we are often afraid. Phillip Keller was a shepherd for many years. In his book, A Shepherd Looks At Psalm 23, he explains that sheep will not lie down if they sense anything that might be dangerous. Even the sudden appearance of a rabbit can cause an entire flock of sheep to panic. Like sheep, we are often convinced that we have something to be troubled about. Our fallen nature tempts us to be anxious about many things. We quickly disregard Jesus' promise to always take care of us. We forget what He said about not letting our hearts be troubled.
Most of us have been troubled at least a million times. We have learned and practiced the habit of being troubled. So we have to relearn how to think and react. There is no "instant" way, that I know of, to be free from ever feeling troubled. But as we learn to obey Jesus' command, we will experience more of Heaven's joy. Even after I had read and memorized Jesus' promise to lead us into peace and joy that are exceedingly and abundantly greater than we could even hope for, I was troubled about many things. Then I learned how to experience His joy! Once our hearts taste the incredible greatness of what God wants to give us, we are willing to spend our lives learning how to receive from Him. I want to give you one of the rich treasures that He gave me. It may be the most valuable gift that anyone has ever given you.
---
Perhaps you are troubled about family, work, finances, health, traffic, politics or world conditions. It would do no good for me to say, "Cheer up and be happy." So I'll explain what happened to me, and hope that you will understand what it means. A voice within me said, "Merlin, listen." It was so clear that it captured all my attention. "Merlin, do not be troubled about anything." I heard the words but did not understand what they meant. "Listen to the words of Jesus!" I remembered that He told His disciples: I am with you always(s), even to the end of the world. (Mt. 28:20) I tried listening more intently. "Merlin, do not be troubled about anything." The words were repeated several times. The longer I listened, the quieter my spirit became. It grew increasingly clear to me that God did not want me to be troubled – about anything. Then I spoke: "Thank You, God, for helping me." I said this over and over as if speaking directly to Him. I heard: "You are listening." It was as if God had lifted me into another world and held me there while He exposed my soul to what it was like to . . . as best I can describe it, to believe Him. The experience was so incredible that it changed me for the rest of my life.
Now, whenever I'm tempted to be troubled about something, I center my attention on the message He gave me and the words Jesus spoke to His disciples. When I do this, my mind is overwhelmed by His peace, rather than by the troubles that circumstances seem to create. I recommend that you do the same. This understanding has changed my attitude and the way I respond to things that once made me feel stressed. Jesus had no home of His own, no possessions, no position, no formal schooling and no money, but He had power. His words caused demons to flee, sickness to vanish, and the dead to live. Try to imagine the peace of heart and mind Jesus had. He wanted us to enjoy that same peace, as His gift to us. I have learned to enjoy more of that peace, and that is why I'm writing this book. My hope is that you will: Fan into flame the gift of God, which is in you . . . . (2 Tim. 1:6 NIV) Think of it! His gift of joy is in you, like a fire that can keep burning brighter and brighter!
---
Purchase God's Secret Weapon
This is a very positive book. Praise is the answer to so many of our problems. If you want to be happy, you have to choose to be. Love this book!

Shelly W."You Can Be Happy Now" Amazon review
---
When you read these books the writing is so down to earth and enjoyable. There is much encouragement to be joyful and enjoy an abundant relationship with the God who loves us and gave His son for us.

Janet"You Can Be Happy Now" Amazon review