About the Founder
Merlin Carothers, author of Prison to Praise, Power in Praise and sixteen other titles, is well-known throughout the Christian community. His books have sold over 19,000,000 copies and have been translated into 59 foreign languages. Carothers is the first author to have three books listed simultaneously on the top ten-bestseller list of the National Christian Bookseller Association. His unique concept of praising in all things brings results that can only be termed miraculous.
This one simple thought - that God's people are intended to give Him praise for everything that comes into their lives - is based on scriptural promises. The Bible tells us in Romans 8:28: And we know that all things work together for good to those who love God. There is nothing that He cannot turn to good and use as a source of spiritual growth to those who love and trust in the Lord.
Merlin Carothers served his country in Europe, Korea, Vietnam, and the Dominican Republic. Proudly, his life was devoted to public service in the following areas: Lieutenant Colonel, U.S. Army, Retired; 82nd Airborne 1943, WWII, Demolition Expert; Guard for Dwight D. Eisenhower; Graduate Marion College, Marion, IN; Graduate Asbury Seminary, Wilmore, KY; Chaplain U.S. Army 1953-1971; Master Parachutist (90 jumps); Civil Air Patrol Pilot; Methodist Pastor.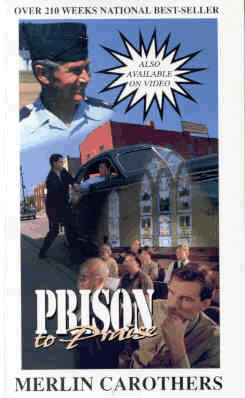 Letters came from prisoners, military personnel, hospital patients, and from thousands of people who accepted Christ after reading Prison to Praise.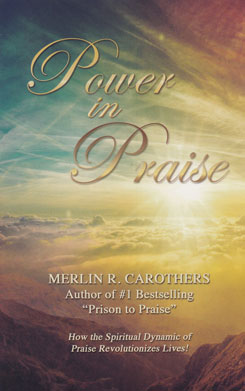 Then Merlin wrote Power in Praise and more requests came for prayer and guidance. Scores of institutions wrote asking for free books.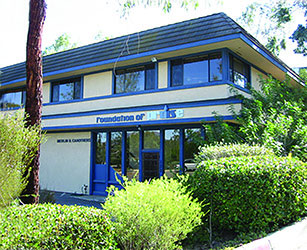 The work of the Foundation of Praise was conducted in the garage of Merlin and Mary Carothers' home in Escondido, California until a new church was completed in 1972. In 1976, another church was established in Escondido, and again the Foundation of Praise worked within the church.
By 1980, requests for free books for prisoners, military personnel and patients had skyrocketed. Letters asking for spiritual help and prayer flooded our mail room. The Foundation moved to larger offices and attempted to keep up with the increasing number of letters and requests. Books were stored in warehouses scattered throughout Escondido. This proved to be a disastrous temporary solution. Not only was it difficult to keep an accurate inventory, but the facilities baked in the heat and leaked water when it rained! Some books were ruined.
Then in 1984, a marvelous thing happened. We were able to build a new building! It was designed so that all our work would be accomplished as quickly and economically as possible. Daily, vehicles back up to our warehouse and load books going to all parts of the United States, and throughout the world.
A primary goal of the Foundation of Praise has been to keep operating costs to an absolute minimum. Many organizations pay thousands of dollars to their presidents or leaders. Not so with the Foundation of Praise. Merlin and Mary never received a salary.  We have resisted all tendencies to become a "large organization" with many employees and magnificent buildings. Since nineteen million of Merlin's books have been distributed, we could have grown in size rather than in ministry. We have chosen to reach needy people to tell them about our Lord and Savior, Jesus.
Our small overhead costs permit us to send thousands of free books every month to the darkest corners of the world. Donations are tax deductible.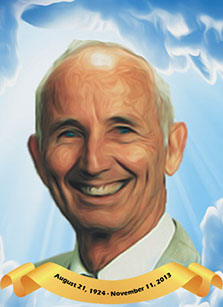 ---
Merlin R. Carothers passed away on November 11, 2013. Before he died, he had written the following letter to the Praise Partners of the Foundation of Praise. Here is that letter.
I'm speaking to you from Heaven! Yes, I really am. Through the grace of our Lord Jesus I have been promoted.
I wrote this to you prior to my arrival in Heaven, and asked Mary to hold this greeting until I had my feet firmly planted in my new home.
First, I want to thank all of you who supported the Foundation of Praise while I was on Earth with you. There were times when we needed someone to give us extra special help and many of you would say, "The Lord told me to help you." And you did! When you join me in Heaven, I'll thank you in person.
At this moment Mary and my staff at the Foundation of Praise will be feeling a little sad. They know God will use my departure for good, but they may not yet understand how that will be. They may wonder if their efforts will be enough to accomplish all the things that still need to be done. Please write and encourage them to continue to share God's praise message around the world.
I have been highly blessed to have had Mary's prayers for me. Now that I'm here with my Lord Jesus, she doesn't need to pray for me anymore, and she will be able to pray more diligently for your prayer requests.
I was often asked if I still had the same confidence that God would work everything for our good if we praise Him. Right up to my last days here on Earth I continued to increase in confidence that everything I had written about praising the Lord was what He taught me. My only regret was that I did not have the ability to more clearly describe the joy that He gave me as I learned to praise Him.
There, where you are, awaits many opportunities to bring others to know Jesus as their Lord and Savior. God uses the praise books in many amazing ways to lead people to the Good News. I pray that you will continue to use them to reach those who need help. They are all around: in prisons, hospitals, the military, anywhere that people are suffering and need the joy of the Lord.
I did my best to place the Foundation of Praise on a firm footing. Everything is in place to continue sharing God's praise. But Mary and the staff will need support and encouragement. I urge you to give that extra help since I am no longer there with them.
I have always depended on the Lord to provide donations to the Foundation of Praise. Now that I have graduated to Heaven, my prayer is that as a non-profit organization, it will carry on for many years. I hope and pray that many thousands of praise books will continue to be printed and read for years and years to come.
So, now you have your personal praise partner in Heaven and I can speak directly to the One who gave His life for us, and praise Him for His love.
While you remain there on Earth, never be weary in sharing His Good News. God will abundantly bless your efforts. I remember that He gave me ever-increasing joy as I urged others to know and love Him. One day, when we are all together, we will unite anew to praise God forever! - Merlin Carothers